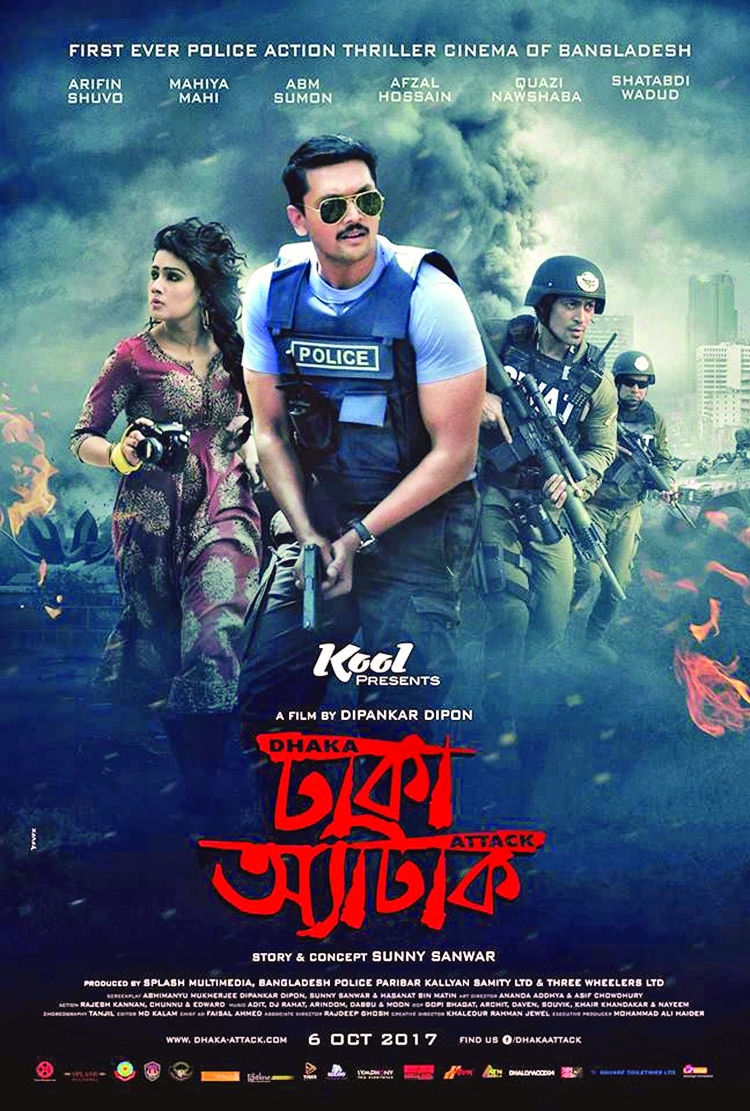 About This Event
Dhaka Attack is the first Bangladeshi Police action thriller produced by Three Wheelers Films and Splash Multimedia Limited. It features Arifin Shuvoo, Mahiya Mahi and ABM Sumon in lead roles. It is directed by Dipankar Dipon and written by Sunny Sanwar. It is also the debut film of Bangladeshi Australian actor Taskeen Rahman as the star villain. Brought to Sydney by BongOz Films and partners.
Directed by Dipankar Dipon
Produced by Mohammad Ali Haider
Written by Sunny Sanwar
Starring
Arifin Shuvoo, Mahiya Mahi, Shatabdi Wadud, ABM Sumon
Music by
Adit, DJ Rahat, Dabbu, Autumnal Moon, Arindom
Cinematography
Gopi Bhagat, Arichit Patel, Shouvik Bosu, Khayer Khandakar, Naim Fuad
Edited by Mohammad Kalam
Production Company
Three Wheelers Films, Splash Multimedia, Tiger Media Limited, Ogniroth Studios, Editline
Distributed by Tiger Media Limited
Release date
6 October 2017 (Bangladesh)
27 October 2017 (worldwide)
Event Details
| | |
| --- | --- |
| Date: | Mon, 18 Mar 2019 |
| Time: | 03:00 PM |
| Location: | Village Cinemas Werribee, Heaths Road, Werribee, VIC 3030 |
| Gate open: | 02:30 PM |
Rules
(Terms & Conditions)
Krazy tickets acts as an agent between ticket buyers and event organizers. Therefore, we will not be liable for disputes such a ticket pricing, postal and handling fee and delivery methods that are managed by the event organizer.
It is the responsibility of the ticket seller to include any VAT or other taxes and Krazy Tickets will not be liable for issues arising from anything related to taxes.
As an event organizer, you comply that once you have posted a ticket here you will not post it elsewhere
Ticket and venue information may change and it is the ticket buyer's responsibility to verify the information.
As an event organizer, you must agree to provide correct and accurate information to buyers.
In case we may investigate any complaints or violations, you agree that you will fully cooperate in such situation
You acknowledge that all the information you provide is accurate as required.
You acknowledge and accept that you comply to the regional laws and regulations
You must be over 18 years of age to be able to make a transaction.
You are strictly not allowed to sell stolen material on this website including any property without the authorization from its owner.
Tickets bought from Krazy Tickets are being emailed to the customers as PDF or in Web format after the successful payment.
Since all our Tickets are digitally produced, we won't be mailing you tickets by post.
Customers are required to produce the Bar-coded Tickets to gain Entry, without a valid ticket you may be refuse to enter the events.
You agree that, Krazy Tickets hold the rights to email you to make you aware of the events that you are attending and email you about the new events and promotions that may interest you.
You must not under any circumstances re sell tickets (unless you are provided a written consent by Krazy Tickets) or be used to promote or advertise any materials/ events. If you are found to be violating this condition then appropriate legal action will be taken.
Scalping of tickets is strictly prohibited and may evoke criminal sanctions.
Krazy Tickets will by all means make sure that all tickets are correctly priced at the time of sale, however, if any errors are found, you are asked to co-operate and be understanding.
We may modify the terms and conditions, in that case the new terms and conditions will be posted on our website and the new terms and conditions will come into effect.
Disclaimer
We (Cinema Organisers/KT) always try our possible best to provide you with seat plans originally set by the cinema authority. However, there may be some cases where your seat allocations are modified or adjusted. In any such event, we (Cinema organisers/KT) will provide you the best available seats, of which the details shall be emailed to you prior to your attendance to said events. You are requested to co-operate if any such conflicts arise, however if you are unable to attend (cannot or simply don't want to) due to these changes, then we have every right to refund the amount you paid for the tickets.