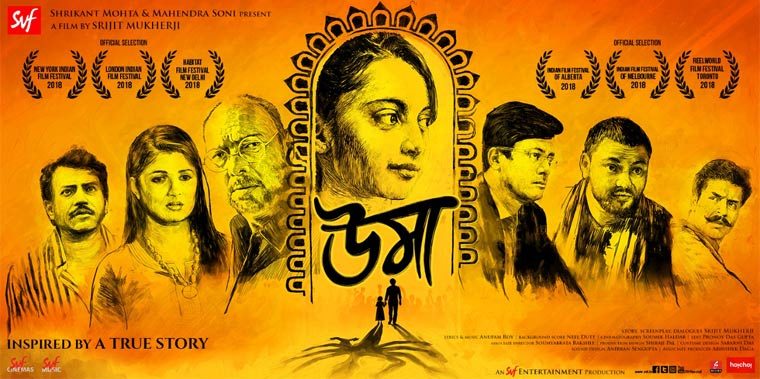 About This Event
Uma is an Indian Bengali drama film directed by Srijit Mukherji based on true events surrounding the life and death of Evan Leversage, who lived in St George in Ontario, Canada. The film stars Jisshu Sengupta, Sara Sengupta, Anjan Dutt, Sayantika Banerjee and Rudranil Ghosh. The movie is set to be released on 1st June 2018.
In the film, a young girl, Uma (Sara Sengupta) living in Switzerland, is fighting for her life with a terminal disease. She wants to see Durga Puja of Kolkata, the biggest celebrated festival of the Bengali Hindus. Himadri, her father (Jisshu Sengupta) takes her to Kolkata to fulfill her dream by planning to set up a fake Durga Puja. Her father and family struggle much to make his daughter's dreams come true and find a director called Brahmananda (Anjan Dutt). The failed director sees this as his opportunity to create a masterpiece, by helping a dying girl. After several requests, the director agrees and makes a false set of Durga Puja. During this, they face many problems to make Uma's dream true.
Directed by: Srijit Mukherji
Produced by: Shrikant Mohta & Mahendra Soni
Written by: Srijit Mukherjee
Starring: Sara Sengupta, Zara Sengupta, Jisshu Sengupta, Anjan Dutt, Sayantika Banerjee, Srabanti Chatterjee, Rudranil Ghosh, Anirban Bhattacharya,Babul Supriyo, Gargi Roychowdhury, Neel Mukherjee, Ambarish Bhattacharya, Abhijit Guha, Partha Sen
Music by: Anupam Roy & Neel Dutt
For queries regarding this event, please contact with the organizer at 0406 063 058.
Event Details
| | |
| --- | --- |
| Date: | Fri, 15 Mar 2019 |
| Time: | 06:00 PM |
| Venue: | Test Theaterv 6 |
| Location: | Reading Cinemas Rhodes, Rider Boulevard, Rhodes, NSW 2138 |
| Gate open: | 05:30 PM |
Rules
(Terms & Conditions)
Krazy tickets acts as an agent between ticket buyers and event organizers. Therefore, we will not be liable for disputes such a ticket pricing, postal and handling fee and delivery methods that are managed by the event organizer.
It is the responsibility of the ticket seller to include any VAT or other taxes and Krazy Tickets will not be liable for issues arising from anything related to taxes.
As an event organizer, you comply that once you have posted a ticket here you will not post it elsewhere
Ticket and venue information may change and it is the ticket buyer's responsibility to verify the information.
As an event organizer, you must agree to provide correct and accurate information to buyers.
In case we may investigate any complaints or violations, you agree that you will fully cooperate in such situation
You acknowledge that all the information you provide is accurate as required.
You acknowledge and accept that you comply to the regional laws and regulations
You must be over 18 years of age to be able to make a transaction.
You are strictly not allowed to sell stolen material on this website including any property without the authorization from its owner.
Tickets bought from Krazy Tickets are being emailed to the customers as PDF or in Web format after the successful payment.
Since all our Tickets are digitally produced, we won't be mailing you tickets by post.
Customers are required to produce the Bar-coded Tickets to gain Entry, without a valid ticket you may be refuse to enter the events.
You agree that, Krazy Tickets hold the rights to email you to make you aware of the events that you are attending and email you about the new events and promotions that may interest you.
You must not under any circumstances re sell tickets (unless you are provided a written consent by Krazy Tickets) or be used to promote or advertise any materials/ events. If you are found to be violating this condition then appropriate legal action will be taken.
Scalping of tickets is strictly prohibited and may evoke criminal sanctions.
Krazy Tickets will by all means make sure that all tickets are correctly priced at the time of sale, however, if any errors are found, you are asked to co-operate and be understanding.
We may modify the terms and conditions, in that case the new terms and conditions will be posted on our website and the new terms and conditions will come into effect.
Disclaimer
We (Event/Cinema Organisers/KT) always try our possible best to provide you with seat plans originally set by the cinema authority. However, there may be some cases where your seat allocations are modified or adjusted. In any such event, we (Event/Cinema organisers/KT) will provide you the best available seats, of which the details shall be emailed to you prior to your attendance to said events. You are requested to co-operate if any such conflicts arise, however if you are unable to attend (cannot or simply don't want to) due to these changes, then we have every right to refund the amount you paid for the tickets.